Alexandria is the second largest city in Egypt, It has an atmosphere that is more Mediterranean than Middle Eastern; its ambience and cultural heritage distance it from the rest of the country although it is actually only 225 km. from Cairo. Alexandria lies northwest of the Nile Delta and adjoins Lake Mariut. It is linked to Cairo by the Delta Road (231 km.) and the Desert Road (225 km.). It is one of the most notable summer resorts in the Middle East, known for its temperate winters and beaches, with soft sands and magnificent scenery that stretch for 40 km. along the Mediterranean Sea. Founded by Alexander the Great in 331 BC, Alexandria became the capital of the Graeco-Roman Egypt, its status as a beacon of culture symbolized by Pharos and the setting for the stormy relationship between Cleopatra and Mark Antony. The city, immortalizing Alexander's name, flourished, beyond all expectations, into a prominent cultural, intellectual and economic metropolis, the remains of which are still evident to this day. There is so much to see in this city. Listed below is a brief overview of some of the sites that you can visit.


Tourist Attractions:

The Graeco-Roman Museum: Houses many collections of rare Roman relics and coins- about 40 thousand pieces, from the 3rd century B.C. to the 7th century A.D. The most important being the " Tanafra " statues.
Pompeii's Pillar: ( Shown on top of page )This is a granite pillar, over 25 meters high, and built amidst the ruins of the Serapium in 297 A.D., in honor of Emperor Diocletian.
The Catacombs of Kom al-Shqafa: This is the largest Roman cemetery. It is of three levels and cut in the rock to a depth of 100 feet. Dating to the beginning of the 2nd century A.D., it is a blend of Pharaonic and Roman art.
The Tombs of Al-Anfushi: These Limestone tombs, dating from about 250B.C. are decorated with pictures of Egyptian gods and daily life.

Other tourist attractions are:

Museums:

The Museum Of Fine Arts: Houses collections of sculptures, paintings and architectural works. Exhibitions by contemporary foreign and Egyptian artists are often held there.Ê

The Antoniadis Gardens: They contain beautifully arranged trees and flowers, as well as several Greco statues in marble and Antoniadis Palace.

The Shallalat Gardens: A central garden in the eastern part of the city center, it is of a special character and is distinguished by its high and low levels and waterways.

The Montazah Palace Gardens: Acres of formal gardens and a beautiful beach make Montazah (shown to the right ) the foremost city pleasure grounds. Montazah Palace, a grand structure built in a mixture of Turkish and Florentine styles, is now a great statehouse.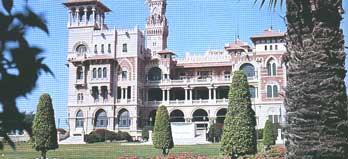 Monument and Tourist Sites:

Egyptian Fleet Anchorage: Built by the Ptolemies, the remains of the naval installations still stand west of the port.

Coptic Chapel: Very early Coptic age, and contains several caves bearing inscriptions.

Rommel's Hideout: A cave, hewn in the rock, where Rommel drew up plans of this military operations. It has now been turned into a military museum.

Port Said: Was built in 1860 on the Mediterranean as the northern Suez Canal. This city increased in repute when it was declared a free zone. It is 220 km. from Cairo, 80 km. from Ismailia and 160 km. from Suez. It is characterized by beautiful, calm and soft sandy beaches and rock-free waters. Geographically, it links Africa with Asia, through Port Fouad, a suburb on the east bank of the Suez Canal. One can visit al-Jameel (the beautiful) 12 km. west of Port Said, for fishing, or take a port cruise to see the ship convoys passing through the Suez Canal.

Other visited sites:
Beaches:

Cleopatra's Bath: Is hewn in a rock about 50m. from the shore which is surrounded by rocky cliffs. It can be reached directly by boat; or car or on foot, and then wading to the rock.

Al-Abyad Beach: About 20 km. further west, its beauty surpasses that of Mersa Matrouh beach. Ageebah Beach: About 28 km. west of Mersa Matrouh, it is distinguished by its numerous natural caves and enchanting scenery.

Ras el-Hekma: Is a land spur jutting out into the sea, about 85 km, east of Matrouh and is distinguished by the beauty and serenity of its beaches. Not only does Alexandria provide you with cities of ancient history, but it also has miles of white sandy beaches. So just sit back and enjoy Alexandria!